NASA scientists on Thursday released new global maps of Earth at night, providing the clearest yet composite view of the patterns of human settlement across our planet.
Satellite images of Earth at night – often referred to as night lights – have been a source of curiosity for public and a tool for fundamental research for nearly 25 years.
These satellite images of the Earth at night – also referred to as 'night lights' – are released every decade. Compared to the map of India's night lights above, the following image from 2012 shows how populations and human settlements have grown over the years.
India as seen at night in 2012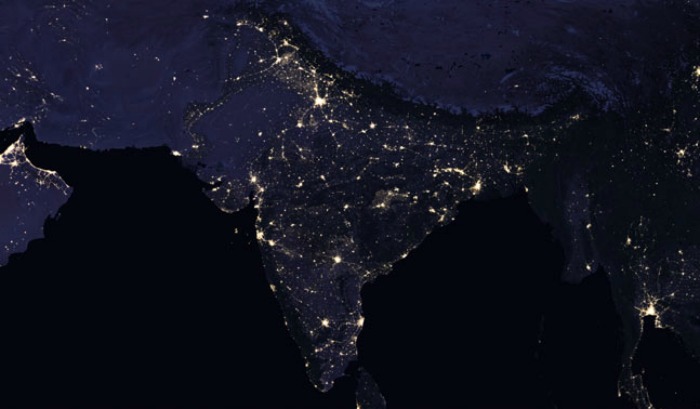 In 2016
What NASA scientists are planning now is to see whether the night lights imagery can be updated more frequently than just once a decade – "Perhaps even yearly, monthly or even daily?"
Suomi NPP observes nearly every location on Earth at roughly 1:30 pm and 1:30 am (local time) each day, observing the planet in vertical 3,000-kilometre strips from pole to pole. Suomi NPP data is freely available to scientists within minutes to hours of acquisition.
These three composite images provide full-hemisphere views of Earth at night. The clouds and sun glint — added here for aesthetic effect — are derived from MODIS instrument land surface and cloud cover products. (NASA Earth Observatory images by Joshua Stevens)
Armed with more accurate nighttime environmental products, the NASA team is now automating the processing so that users will be able to view nighttime imagery within hours of acquisition.
This has the potential to aid short-term weather forecasting and disaster response.